The 2014
Federation of International Lacrosse
World Championship will mark the first time that the country of Israel fields a men's national team, and Hounds midfielder
Casey Cittadino
has the privilege of being a part of that history. The official team roster was announced in January, but for Cittadino the process of representing Israel began much earlier and was much more complicated than just a making the cut at tryouts.
Israel Lacrosse
Executive Director
Scott Neiss
and head coach
Bill Beroza
first approached Cittadino with the idea of representing the country in the World Games in early 2013. After passing on tryouts for Team USA in 2006 and 2010 -- and unsure if he would get an invite in 2014 -- Cittadino knew this was an opportunity he couldn't pass up. "They told me, 'If you do commit, there's going to be a number of other things that we want you to be a part of to help grow the sport in Israel because ultimately that's what we're trying to,'" explained Cittadino. "I just made a decision right then and there that I wanted to be a part of it." 
In order to be a member of the team, Cittadino had to become a legal citizen of Israel. The process of acquiring dual citizenship required stacks of paperwork and a trip to Israel to interview with the Israeli embassy. He traveled overseas in December, and while there was able to work with some of the young lacrosse players in Israel. "I got my paperwork done with the Israeli government and then I chaperoned the U-19 team of American players that want to play for Team Israel in the next World Games over to Poland and coached them in a tournament." 
The tournament saw Israel's U-19 team faceoff against the national teams for Poland and Lithuania. Despite dropping the first game to Lithuania 7-5, Cittadino's team kept their focus and earned a hard-fought 7-5 victory over team Poland. In between the tournament games, Cittadino held a private clinic for players from Lithuania and Poland. "The entire experience was pretty amazing," Cittadino said. "I'm getting to grow the game in Israel, I'm getting to grow the game in Poland, I'm getting to grow the game in these other countries where it's so new to them. So to truly be a part of it was a pleasure for me." Along with coaching and hosting the clinic, Cittadino donated about three equipment bags full of gear to the programs he was assisting.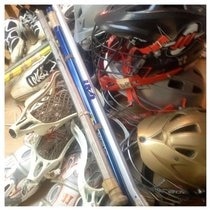 The December excursion was just the beginning for Cittadino, who already has plans in the works to travel back to Israel and continue with Israel Lacrosse's mission of growing the game. There also will be clinics hosted in the U.S. by Israel Lacrosse throughout the spring and summer. As for the Israeli national team's preparation for the World Games, scrimmages currently are being scheduled with Team Ireland and at least one more nation in the coming months. The team also plans to fly out to Denver a few weeks early to participate in the Vail Tournament as a final tune-up before the opening round of the World Games in mid-July.
"I give all the credit to guys like Scott Neiss who have been trying to get this thing across the goal line for two years now with all that back end work and creating a program in Israel, teaching the kids," Cittadino said. "For me to be part of the team is incredible. I'm a little nervous going in though. The coaches and staff have really high hopes." While all teams go into the World Games with their sights set on a Gold Medal, Cittadino noted as a new team it is more important for Israel to establish itself as a serious contender on the world stage and set a good example for future players.
One of the things Cittadino is most looking forward to is getting to mingle with the players from all of the other countries. "It's great seeing other countries around the world playing and being a part of that whole community and understanding how big the sport has grown in the world," he said. "You kind of live in a little bubble here not realizing (how lacrosse has spread) and to be a part of it on a world stage is going to be really the best part for me."
For now Cittadino is keeping his focus on the 2014 World Championships, but he plans to remain involved with Israel Lacrosse for the foreseeable future, whether it's as a player or even an assistant coach. "Career wise, I don't know if I'm going to be around playing in another four years. I'll be (35)," he said. "We'll just have to take it event by event. I'm always going to do as much as I can to help grow the sport."